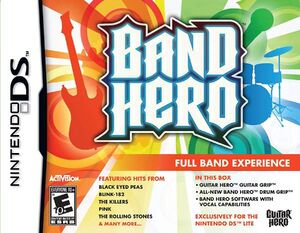 The North American and European versions each have 15 exclusive tracks, while 15 other songs feature in both versions.
Artist
Song
Other games
The All-American Rejects
Believe (North America)
Alphabeat
Fascination (Europe)
Avril Lavigne
Girlfriend
Burnout Dominator, Burnout Paradise, Just Dance 2, Singstar (DLC)
Black Eyed Peas
Let's Get It Started
Blink-182
First Date
Guitar Hero Live (DLC)
Blur
Song 2 (Europe)
Boys Like Girls
The Great Escape (North America)
Top Spin 3
The Cardigans
My Favourite Game (Europe)
Coldplay
Yellow (Europe)
Duran Duran
Hungry Like the Wolf (North America)
Karaoke Revolution Presents American Idol, Lips, Rock Band 2, Dance Dance Revolution Hottest Party, Guitar Hero 5, Singstar (DLC), Tap Tap Revenge 4
Eagles of Death Metal
Wannabe in L.A. (North America)
Midnight Club: Los Angeles, Colin McRae: Dirt 2, MLB 09: The Show, Shaun White Skateboarding
Editors
Munich (Europe)
Evanescence
Call Me When You're Sober
Fall Out Boy
Thnks fr th Mmrs
Boogie Superstar, Singstar Pop Vol. 2, Guitar Hero 5 (DLC), Lips (DLC), Rock Band (DLC)
Foo Fighters
Monkey Wrench
Guitar Hero II
Gorillaz
Feel Good Inc. (Europe)
Kaiser Chiefs
I Predict a Riot
Gran Turismo 4 (PAL Version Only)
Kasabian
Club Foot
The Killers
Spaceman
Kings of Leon
Manhattan
KT Tunstall
Suddenly I See
Lego Rock Band
Lacuna Coil
Our Truth (North America)
Guitar Hero: World Tour
The Last Shadow Puppets
The Age of the Understatement
Lenny Kravitz
Fly Away (Europe)
Lily Allen
Take What You Take (Europe)
Project Gotham Racing 4, Band Hero (consoles)
Maroon 5
She Will Be Loved (Europe)
Mika
Grace Kelly (Europe)
N.E.R.D.
Windows (Europe)
No Doubt
Excuse Me Mr.
Pink
So What
The Presidents of the United States of America
Lump (North America)
The Pretenders
Boots of Chinese Plastic (North America)
Queen
Crazy Little Thing Called Love (North America)
Queens of the Stone Age
No One Knows
Razorlight
Golden Touch (Europe)
The Red Jumpsuit Apparatus
You Better Pray (North America)
Robbie Williams
Tripping (Europe)
The Rolling Stones
Under My Thumb (live)
Spin Doctors
Two Princes (North America)
Sublime
All You Need (North America)
Sum 41
In Too Deep (North America)
Lego Rock Band
Ugly Kid Joe
Everything About You
Vampire Weekend
A-Punk (North America)
The Vines
Get Free (North America)
Top Spin, Far Cry 5
Weezer
Troublemaker (North America)
Community content is available under
CC-BY-SA
unless otherwise noted.