For songs featured in the base GTA IV game, see Grand Theft Auto IV.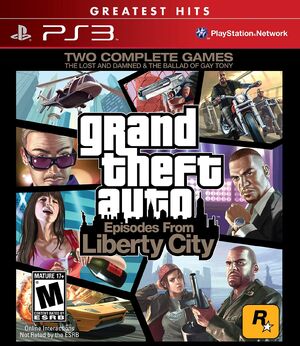 Paul

David Morales ft. Lea-Lorien
How Would U Feel
Steve Mac
Lovin' You More (Freemasons Vocal Club Mix)
Sucker DJs
Salvation (eSQUIRE Mix)
Stonebridge ft. Therese
Put 'Em High (JJ's Club Mix)
Marly
You Never Know (Morjac Extended Mix)
Shape:UK
Lola's Theme
Freemasons ft. Amanda Wilson
Love On My Mind
Dance Dance Revolution SuperNOVA 2
Soulsearcher
Can't Get Enough
Michael Gray
The Weekend
Jonathan Peters ft. Maya Azucena
Music
J Majik & Wickaman
Crazy World (Fonzerelli Mix)
Booty Luv
Boogie 2Nite (Seamus Haji Big Love Mix)
Hook 'n Sling
The Best Thing
Eric Prydz
Pjanoo (Club Mix)
DJ Hero, Juiced 2: Hot Import Nights
David Guetta ft. Kelly Rowland
When Love Takes Over (Original Extended)
DJ Hero, Dance Paradise
Juliette Lewis

Blonde Acid Cult
Shake It Loose
Kill Memory Crash
Hell On Wheels
Magic Dirt
Get Ready To Die
Brazilian Girls
Nouveau Americain
Freeland
Borderline
Forza Motorsport 3
Kreeps (Brody Dalle on vocals)
The Hunger (Blood In My Mouth)
Japanther
Radical Businessman
Foxylane
Command
Monotonix
Body Language
Game Rebellion
Dance Girl (GTA Mix)
The Yelling
Blood On The Steps
The Jane Shermans
I Walk Alone
Crookers

Major Lazer ft. Leftside & Supahype
Jump Up
Daniel Haaksman ft. Mc Miltinho
Kid Conga
Boy 8–Bit
A City Under Siege
Crookers ft. Kardinal Offishall & Carla Marie
Put Your Hands On Me (Acapella)
The Chemical Brothers
Nude Night
Crookers ft. Solo
Bad Men
Miike Snow
Animal (only appears as an acapella sample)
original in Saints Row: The Third
Jahcoozi
Watching You (Oliver $ Remix)
Crookers ft. Nic Sarno
Boxer
SonicC
Stickin
Black Noise
Knock You Out (Andy George Remix)
Mixhell ft. Jen Lasher & Oh Snap
Boom Da (Crookers Mix)
Crookers ft. Kelis
No Security
Karl Lagerfeld

Change
A Lover's Holiday
Rufus ft. Chaka Khan
Any Love
The Fatback Band
(Are You Ready) Do The Bus Stop
A Taste of Honey
Boogie Oogie Oogie
The Trammps
Disco Inferno
DJ Hero, Dance Central 3; cover in Dance Dance Revolution Hottest Party
Creme d'Cocoa
Doin' The Dog
Chic
Everybody Dance
cover in Dance Dance Revolution Hottest Party 2
Sister Sledge
He's The Greatest Dancer
Dance Dance Revolution Universe 2
Sylvester
I Need You
Patrick Cowley
Menergy
Stephanie Mills
Put Your Body In It
Dan Hartman
Relight My Fire
Peaches & Herb
Shake Your Groove Thing
NBA Jam (2003), MC Groovz Dance Craze
Rose Royce
Still In Love
Machine
There But For The Grace Of God Go I
Candi Staton
Young Hearts Run Free
Max Cavalera

At the Gates
Slaughter of the Soul
Tony Hawk's Proving Ground
Drive By Audio
Jailbait
Celtic Frost
Inner Sanctum
Entombed
Drowned
Earache: Extreme Metal Racing
Sepultura
Dead Embryonic Cells
Deicide
Dead By Dawn
Cannibal Corpse
I Cum Blood
Bathory
Call From The Grave
Kreator
Awakening Of The Gods
Terrorizer
Fear Of Napalm
Soulfly
Blood Fire War Hate
Funk Flex & Statik Selektah

Busta Rhymes ft. Ron Browz
Arab Money
Busta Rhymes ft. Young Jeezy & Jadakiss
Respect My Conglomerate
Ron Browz
Jumping (Out the Window)
T.I. ft. Swizz Beatz
Swing Ya Rag
DJ Khaled ft. Kanye West & T-Pain
Go Hard
Kardinal Offishall ft. Akon & Sean Paul
Dangerous (Remix)
John Legend ft. André 3000
Green Light
Kanye West
Love Lockdown
DJ Hero 2
B.O.B
Auto-Tune
Termanology
Here In Liberty City
Freeway
Carjack
Saigon
Spit
Skyzoo
The Chase Is On
Consequence
I Hear Footsteps
Talib Kweli
My Favorite Song
Iggy Pop

Nazareth
Hair Of The Dog
Styx
Renegade
NHL Rivals 2004, Madden NFL 25
Rod Stewart
Every Picture Tells A Story
Lynyrd Skynyrd
Saturday Night Special
The James Gang
Funk #49
Test Drive: Unlimited, NBA Jam (2003)
Edgar Winter Group
Free Ride
Cars, MLB 11: The Show
Aerosmith
Lord Of The Thighs
Deep Purple
Highway Star
Rock'n'Roll Racing
AC/DC
Touch Too Much
Foghat
Drivin' Wheel
Nascar 05
The Doors
Five To One
Alice Cooper
Go To Hell
Jefferson Starship
Jane
Iron Maiden
Run to the Hills
SSX On Tour
Mötley Crüe
Wild Side
Saxon
Wheels Of Steel
Brütal Legend
The Doobie Brothers
China Grove
Bon Jovi
Wanted Dead Or Alive
Rock Band
Henry Santos Jeter

Ivy Queen
Dime
Aventura
El Desprecio
Fulanito
Guallando
Tego Calderón ft. Oscar D'León
Llora, Llora
Wisin & Yandel ft. DJ Nesty
Me Estás Tentando
Angel & Khriz ft. Gocho & John Eric
Na De Na
Elvis Crespo
Suavemente
Don Omar
Virtual Diva
Saints Row: The Third
David Rodigan

Barrington Levy
Don't Fuss Nor Fight (AKA Sweet Reggae Music)
Ini Kamoze
Out Of Jamaica
Damian Marley
Holiday
The Morwells & Prince Jammy
Jammin' For Survival
John Holt ft. Sizzla
Police In Helicopter
Sugar Minott
Hard Time Pressure
Desmond Dekker
007 (Shanty Town)
Major Lazer ft. Turbulence
Anything Goes
Prince Jammy
Jammy A Shine
Toots And The Maytals
54-46 Was My Number
Frankie Paul
War Is In The Dance
Mr. Vegas
Mus Come A Road
Audrey

The Orb
A Huge Ever Growing Pulsating Brain That Rules From The Centre Of The Ultraworld (Live Mix MK10)
Alpha Wave Movement
Artifacts & Prophecies
Autechre
Bike
Larry Heard
Cosmology Myth
Chilled By Nature
Go Forward (Love Bubble Mix)
Tom Middleton
Moonbathing
Alucidnation
Skygazer (3002) (Remix)
Pete Namlook And Klaus Schulze ft. Bill Laswell
V/8 Psychedelic Brunch
Fernando Martinez

Neneh Cherry
Buffalo Stance
Swing Out Sister
Breakout
Beatmania IIDX DistorteD (Orange Lounge Remix)
Robbie Nevil
C'est La Vie
Roachford
Cuddly Toy (Feel For Me)
Narada Michael Walden
Divine Emotions
Five Star
Find The Time
T'Pau
Heart And Soul
Mai Tai
History
Nu Shooz
I Can't Wait
Sampled for 42 in NBA Live 16
Texas
I Don't Want A Lover
Marillion
Kayleigh
Hue And Cry
Labour Of Love
Climie Fisher
Love Changes (Everything)
Hall & Oates
Maneater
Metal Gear Solid V: The Phantom Pain; cover in Karaoke Revolution Presents American Idol Encore 2
Curiosity Killed The Cat
Misfit
Coldcut & Lisa Stansfield
People Hold On
Level 42
Something About You
Jeffrey Osborne
Stay With Me Tonight
Womack & Womack
Teardrops
Roxette
The Look
Lips: Number One Hits
Re-Flex
The Politics Of Dancing
'Til Tuesday
Voices Carry
Boy Meets Girl
Waiting For A Star To Fall
Prefab Sprout
When Love Breaks Down
Terence Trent D'Arby
Wishing Well
Wet Wet Wet
Wishing I Was Lucky
Scritti Politti
Wood Beez (Pray Like Aretha Franklin)
John Farnham
You're The Voice
Community content is available under
CC-BY-SA
unless otherwise noted.