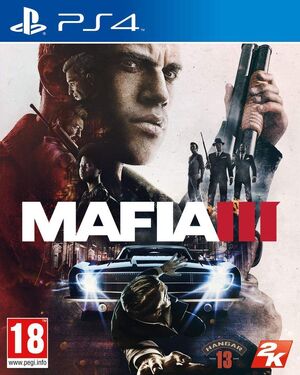 Listed in the original order, but you can sort artists by name.
Artist
Song
Other games
? And The Mysterians
Ninety-Six Tears
The Animals
We Gotta Get Out Of This Place
Aretha Franklin
Chain of Fools
cover in Karaoke Revolution
Respect
cover in Karaoke Revolution Vol. 3
Barry Maguire
Eve of Destruction
The Beach Boys
Help Me, Rhonda
Heroes and Villains
Wouldn't It Be Nice
Fallout 76
Beethoven Ben
Dance of the Hours
Big Brother & The Holding Company
Piece of My Heart
Blue Cheer
Good Times Are So Hard To Find
Bobby Fuller Four
I Fought The Law
Box Tops
The Letter
Canned Heat
On The Road Again
Need for Speed: The Run
Chambers Brothers
I Can't Turn You Loose
Clarence Carter
Slip Away
Clifton Chenier
Ay-Tete-Fee
Count Five
Psychotic Reaction
Cream
White Room
Creedence Clearwater Revival
Proud Mary
cover in Karaoke Revolution Presents: American Idol; Ike & Tina Turner version in Just Dance 2
Green River
Grand Theft Auto: San Andreas
Fortunate Son
Watch Dogs 2, BioShock Infinite, Grand Theft Auto V (re-release), Rock Band (DLC)
Bad Moon Rising
Far Cry 5
Born on the Bayou
Up Around the Bend
Far Cry 5
Del Shannon
Runaway
Keep Searchin' (We'll Follow The Sun)
Delta Rae
Bottom of the River
Dewey Edwards
I Let A Good Thing Go By
Diana Ross & The Supremes
Love Child
Dusty Springfield
Son of a Preacher Man
Lips: Party Classics, cover in Karaoke Revolution
Eddie Floyd
Knock on Wood
Elvis Presley
A Little Less Conversation
Junkie XL remix in Just Dance
Etta James
Don't Go To Strangers
Four Tops
Reach Out, I'll Be There
Freddie Cannon
Palisades Park
Iron Butterfly
In A Gadda Da Vida
James Brown
I Got You (I Feel Good)
Just Dance 2, Rock Band 3; remix in Downhill Domination
Jefferson Airplane
Somebody to Love
Boogie Pimps version in Dance Dance Revolution: Universe
White Rabbit
Conflict: Vietnam, Shaun White: Snowboarding
John Lee Hooker
One Bourbon, One Scotch, One Beer
Johnny Cash
Folsom Prison Blues (Live)
Ring of Fire
Tony Hawk's Underground 2, Lips
Jr. Walker and the All Stars
Shotgun
L.C. Cooke
Take Me For What I Am
Lightnin' Hopkins
Black Ghost Blues
Sinner's Prayer
The Howling Wolf
Lightnin' Slim
G.I. Blues
Little Richard
Long Tall Sally
Lonnie Youngblood
Go Go Shoes
Martha and the Vendellas
Nowhere to Run
Conflict: Vietnam, Made Man
Marvin Gaye
You
Mercy Dee Walton
Five Card Hand
The Misfits
You Belong To Me
Mourning Ritual (ft. Peter Dreimanis)
Bad Moon Rising
Otis Redding
Sitting On The Dock Of The Bay
cover in Karaoke Revolution Vol. 2
Hard To Handle
Otis Redding & Carla Thomas
Tramp
Sampled for Champ in Tony Hawk's American Wasteland and B-Boy
Otis Spann
Must Have Been The Devil
Patsy Cline
Crazy
Twisted Metal (2012)
Paul Revere and the Raiders
Kicks
Ramones
Palisades Park
Roger Miller
King of the Road
Roosevelt Sykes
Hey Big Momma
Roy Orbison
Running Scared
Rufus Thomas
Walking The Dog
Sam and Dave
Hold On, I'm Comin'
Skate 2, EA Sports UFC 2
Soul Man
Tony Hawk: Shred; cover by the Blues Brothers in WWE 2K18
Sam Cooke
Chain Gang
DJ Hero 2
Wonderful World
SingStar Legends
Bring It On Home To Me
Another Saturday Night
I'm Gonna Forget About You
Sam the Sham and the Pharaohs
Li'l Red Riding Hood
Sonny Rhodes
You Better Stop
Status Quo
Pictures Of Matchstick Men
Steppenwolf
Desperation
Born To Be Wild
Just Dance 2 (DLC); cover in Karaoke Revolution Vol. 2
Supremes
You Keep Me Hangin' On
Lips (DLC)
Temptations
I Wish It Would Rain
The Animals
House of the Rising Sun
The Avengers
Paint It Black
The Band
The Weight
The Chambers Brothers
Time Has Come Today
The Dramatics
Get Up and Get Down
The Duprees
You Belong To Me
The Fun Sons
Hang Ten
The Miracles
You've Really Got A Hold On Me
The Rolling Stones
Mother's Little Helper
Paint It Black
Twisted Metal: Black, Guitar Hero III: Legends of Rock, Conflict: Vietnam
Sympathy For The Devil
Tony Hawk's Proving Ground, Guitar Hero 5; Fatboy Slim remix in Just Dance 2
Street Fighting Man
The Searchers
Take Me For What I'm Worth
Needles & Pins
The Shadows of Knight
I Got My Mojo Working
The Supremes
Baby Love
SingStar Dance, Lips (DLC)
The Tams
What Kind of Fool (Do You Think I Am)
The Temptations
Ain't Too Proud To Beg
cover in Karaoke Revolution Party
The Troggs
Wild Thing
Three Dog Night
One
Vanilla Fudge
You Keep Me Hangin' On
Community content is available under
CC-BY-SA
unless otherwise noted.