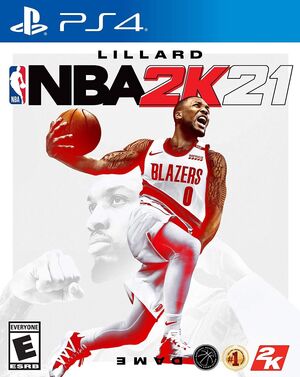 Portland Trail Blazers PG Damian Lillard has been announced as the cover athlete for the current-gen consoles. New Orleans Pelicans PF Zion Williamson has been announced as the cover athlete for the next-gen consoles. Former/deceased Los Angeles Lakers SG Kobe Bryant has been announced as the cover athlete for the Mamba Forever edition.
Current-Gen Soundtrack
Added songs
On November 12, 2020, rapper 2 Chainz premiered five songs from his upcoming album So Help Me God in the game.[1]
Next-Gen Soundtrack
The Next-Gen soundtrack features 150 completely different songs, including more than 100 songs distributed by UnitedMasters.[2]
Artist
Song
Other games
Lil Baby Feat. Lil Uzi Vert
Commercial
Dreamville
Big Black Truck ft. JID
Digable Planets
Rebirth Of Slick (Cool Like Dat)
True Crime: New York City, Forza Horizon 4
Lee Bezel
OFF THE LEASH
Pop Smoke
Invincible
CHIKA
INDUSTRY GAMES
A Tribe Called Quest
Buggin' Out
Dave Mirra Freestyle BMX 2
AG Club
Columbia
Calid B.
A.D.E.N. (ft. Jay Swifta)
Dave
Professor X
REASON
Show Stop
Dribble2much
One and Done
GHSTLY XXVII
Trust
IDK & Juicy J
SQUARE UP
James BKS
New Breed feat. Q-Tip, Idris Elba &

Little Simz

Jay Critch
Dreams In A Wraith
Juice WRLD ft. Marshmello
Come & Go
KILLY
OH NO
Koteri
Riot
Lil Wayne
I Do It ft. Big Sean & Lil Baby
Maniscooler x Kamakaze
Shanghai
Ocean Wisdom x Ghetts
LOWRIDER
pineappleCITI
Believe

Popcaan

Promise
Rich Brian
BALI ft. Guapdad 4000
Run The Jewels
Ooh LA LA feat. Greg Nice & DJ Premier
Russ
GUESS WHAT ft. Rick Ross
SAINt JHN
All I Want Is A Yacht
Stormzy
Handsome
Sky Katz
Back At It
Tame Impala
Breathe Deeper
Tame Impala
Lost In Yesterday
Travis Barker, Wiz Khalifa
Drums Drums Drums
MLB 21: The Show
Trampolene
Born Again
Tyla Yaweh
Tommy Lee ft. Post Malone
Yinka Diz
On God ft. Calid B And Jay Beato (Prod. Kofi Cooks)
.shy
Break The News
2xSammy
Ball Harder
2xSammy
2 Official
451
BEST INTEREST
AB (Antonio Brown)
Home From The N.O. (prod. by Siouyari) ft. YDtheBest
A.G Roid
ON ME
Alexander Charles (feat. Bij Lincs)
These Days
Alexis Renee
Racks
Anonymuz
Unless
Ariaa
661
Ayo Breeze
OverTime
B1uan
BETTER
BK Fire
Armageddon (Remix) [feat. dzyre]
Bryce Oliver
Living Legend
Byrd the Voice
Motivation (prod. by Hellyer)
Chief Armand
Talk Game
Chosen Music
Summit
Christof Hunte
Break Time
CHRYS THOMPSON
Aerials
Craigy F.
Up Now
Create the Culture
Don't Want Me Winnin'
Danny Cisco
daze
Decarlo Tatum Jr.
On Go
Dot Cromwell
MOOD
Dre nello
All Hype
Edo 100
OVERTIME
Epthemars
Zoom
Erick Lottary
Word
Figuero Jones
Chief Spinner
First Name Shayne
The Motive
Fourtee
Talk to Me Nice
Geechi Da Don
Want It All
Gene Gray
How You Should (Destiny)
Glory
That Boy Good
Hadar Adora
Patience
Holt
Dance With Me
Htiekal
Fast Life
I Am Tonka
I Might Flex
iivrson
Pressure
iivrson
Money Callin
ill Nicky
California
Iman.
Hello
iZZE
Porsche Dreams
JAY VOSS
Take It From Me
JAY VOSS
They Gonna Follow
Jaywop
Carousel
Jevon Alexander
Mamba Mentality
Josh Dominguez
DOUBT
KC Carter
Someday
Kai Ca$h
Ghost
Kai Ca$h
$tunna
Kamau Jahad
The Wait
kj feeds
WORK
Kruize
LALA LAND
KUMAR
Fanatic
KuuL
WIN
Lando Ameen
KAMS REVENGE
Lil Nemo
Run It Up
Loovy.
I DO THIS.
Loretta Mars
Post Up
Lstnite
Bando
Mille Manny
ALL IN
Neo Sohl
Big Dreams
Niko Slim
Solitary
Nique
UP HIGH, DOWN LOW
Noah Sims
Theatrics
O Fresh
Hype
O Fresh
WWW
Orrin
HARLEY
OTW Kilo
Juice
OTW Kilo
Stack That Money
Ponce De'leioun
Be About It
Project88icon
Go Viral
Ron Suno
Ball
Runup Rico
Life Or Death
SNUBBS
Masked Up
Solo da Honcho
Black Mamba
SONNY NITEZ
NO TOMORROW
Splash Zanotti
VIBRATE HIGH
Swoosh God
Main Topic
Tariq Lloyd
You vs. Yourself
Tariq Lloyd
Championship Rings
The Royal Waev
Passport
The Seige
Run for Your Life
note: This song was in Current-Gen playlist but later removed
Tizzy Stackz
Red Light
Trapp Rg
80's
TRVP BRAZY
Every Season
Vonchi
Finish Lines
Vuccini
Watch
Wes Blanco
Gimmie That
X Nikko
Rendez-Vous
Xpress
Keep Ya Head Up
YSB Tril
Do The Most
YUNG CORY
Movie
YUNG CORY
Hustle
Yurms
I Spy
Yurms
Back In Action
Zachary Jordan
Toy
I.T. Official
China Bulls
Davante FRE$H
Run Up
Kiiing Leo
2 Step
Carl'eone
I Got Next
Warcub
My World
CRUEL HEARTS CLUB
HEY COMPADRE
Remiri
The Rise
Vinnin
Top of The Game
Added in February, 2021
2K and UnitedMasters officially reached the halfway point of their 2K Beats: The Search competition and have selected 10 artists to join the NBA 2K21 next gen soundtrack.
The winners, based off of over 13,000 submissions, were chosen by Rapper Jadakiss, Ronnie 2K, Producers Murda Beatz and Tay Keith. The following artists and tracks will be added to the next gen NBA 2K21 soundtrack in an upcoming patch.
| Artist | Song | Other games |
| --- | --- | --- |
| Delly Everyday | Same Game | |
| Caleb Isaiah | Legend | |
| Scotty Valid | UP | |
| Jupiter Ki | $20Mill | |
| Zane Smith | 24 Hours | |
| Kayo Porter | Never Miss | |
| Smoovebeendidit | Hands Tied | |
| Skippa Da Flippa | Win Again | |
| 10k.Caash | Left Knee | |
| A1 Illa | Elevating | |