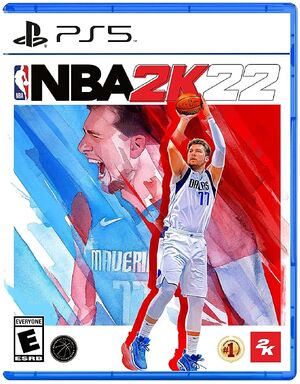 NBA 2K22 is a 2021 basketball video game, developed by 2K Games.

The Game FT. MP - "Immortal"
Louis Cole - "Weird Part of the Night"
Freddie Gibbs & The Alchemist - "God is Perfect"
Saweetie FT. Doja Cat - "Best Friend"
Jazmine Sullivan FT. Anderson .Paak - "Price Tags"
People Under The Stairs FT. Camel MC - "Acid Rain Drops"
Travis Scott FT. Young Thug & M.I.A - "Franchise"
Dababy - "Practice"
Yves Tumor - "Gospel For a New Country"
BLXST FT. Ty Dolla $ign & Tyga - "Chosen"
Medhane - "Na FR"
Jack Harlow - "Tyler Herro"
JJ Doom - "Guv'nor"
Danileigh FT. Dababy - "Levi High"
Smino FT. Bari - "Summer Salt"
Beenie Man - "Who Am I"
Bishop Nehru FT. MF Doom - "Meathead"
Academy - "Lockdown"
Thundercat FT. Ty Dolla $ign & Lil B - "Fair Chance"
Machinedrum FT. A$AP Ferg, Mono/Poly, & Tanerelle - "Star (A$AP Ferg Remix)
Metro Boomin FT. Gunna - "Space Cadet"
Migos FT. Youngboy Never Broke Again - "Need It"
Gunna FT. Young Thug - "Dollaz on my Head"
Mick Jenkins FT. EARTHGANG - "The Light"
SAINt JHN FT. Future - "Roses (Remix)"
Dreamville with EARTHGANG & J. Cole FT. Smino & Saba - "Sacrifices"
Seers - "Twilight"
Frisco - "Half Full or Half Empty"
Princess Nokia - "Gemini"
Aitch - "Safe to Say"
Pi'erre Bourne - "4U"
Juice WRLD FT. Young Thug - "Bad Boy"
Megan Thee Stallion - "Body"
Night Lovell - "Alone"
Higher Brothers - "Empire"
Spotemgottem - "Beat Box"
Moneybagg Yo - "Time Today"
24K Goldn - "Outta Pocket"
Bartees Strange - "Flagey God"
Mello Music Group with Stalley, Joell Ortiz, Namir Blade, & Solemn Brigham - "Black Rock"
Skyzoo - "Memory Serves Me"
Oddisee - "Shoot Your Shot"
Audio Two - "Top Billin'"
Robyn - "Missing U (Weiss Remix Edit)
Little Dragon - "Hold On"
Dribble2much - "Showtime"
Nas - "Made You Look"
Boldy James & The Alchemist FT. Freddie Gibbs - "S.N.O.R.T"
Insightful - "Last Time"
Young M.A - "Successful"
IDK & Offset - "Shoot My Shot"
Moe & Zaytoven - "Walkin on Water"
Badda TD FT. 42 Dugg - "Feel Like A Boss"
Dom Dolla - "Pump the Brakes"
Lion Babe FT. Busta Rhymes - "Harder"
EARTHGANG - "Top Down"
Jordan Lyles' - "We're Here"
A.B. Original - "That's Love"
TRDMRK FT. Guilty Simpson - "Fall in Numbers"
The Lamonts - "Starting 5 (2K Remix)
Brandz - "Roll the Dice"
Kay Eye - "Out Fuh Blood"
Eriq Trilly - "4th Grade (Freestyle)"
BuddieRoe - "Follow Me"
E.R.A - "The Come Up"
Pascall FT. Ezro - "No Sheep"
Sak Pase FT. Keenan The First - "Wet"
Swayyvo - "Never Lose"
Qajim - "Max Volume"
Jay Morris - "Don't Mind Me"

24kGoldn & Lil Tecca - "Prada"

347aidan - "Harmony"

Aries - "One Punch"

Baby Keem ft. Kendrick Lamar - "family ties"

Cochise - "Pocket Rocket"

Fivio Foreign - "Story Time"

Lil Nas X - "THATS WHAT I WANT"

Polo G - "Black Hearted"

Scorey - "Love Letter"

SSGKobe - "MIA"

The Kid LAROI ft. Justin Bieber - "Stay"

Tyler, The Creator ft. Lil Uzi Vert & Pharrell Williams - "Juggernaut"

Big Sean & Hit-Boy - "Chaos"

Bino Rideaux - "Stop It"

Goon des Garcons* - "Let's Go"

John Lindahl - "AMF"

Kendra Jae - "Big"

LATheGoat - "You Wouldn't Believe Me"

Logic - "untitled"

Roddy Rackzz - "Realist Richest Youngin"

Saint Bodhi - "Win"

070 Shake ft. NLE Choppa - "Lose My Cool"

Freddie Gibbs ft. Jadakiss - "Black Illuminati"

Freddie Gibbs - "Big Boss Rabbit"

Fresco Trey - "Draft Kings"

Saweetie - "Fast (Motion)"

Isaiah Rashad ft. Lil Uzi Vert - "From the Garden"

IDK - "Santa Monica Blvd"
Erica Banks - "Buss It"
Bryce Vine ft. Thutmose - "The Game"

BKTHERULA - "WATCH ME"

NLEChoppa ft. Polo G - "Jumpin"

Malid Jordan ft. Drake - "Stars Align"

Smiley ft. Drake - "Over the Top"