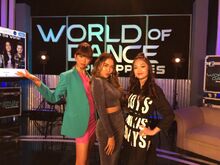 Hello everyone! I am Jskylinegtr, a fan of many female Filipino artists, i used to be a fan of EA's soundtracks, until i have changed my interest due to a change of scheme. I also am a fan of BLACKPINK. I somewhat dislike hip hop/rap in sports soundtracks (especially Madden NFL 19) due to excessive explicit content. I have moved from EA to work for Cornerstone Entertainment Inc.
Prior to becoming a BLACKPINK BLINK, here were my favorite soundtracks in video games.
Most hated genres in racing game soundtracks (if the soundtrack focuses on the genre)
Instrumental Drum and Bass.
Instrumental Electronic music
EA Soundtracks i loved until i moved to Star Magic
Favorite Madden soundtracks
Need for Speed soundtracks
Hard rock/heavy metal Bands i used to like until i became a BLINK
Most-hated explicit rappers
Community content is available under
CC-BY-SA
unless otherwise noted.