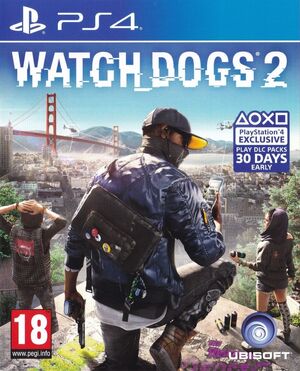 Artist
Song
Other games

Bay City Pop KBY-FM
Crystal Castles vs. HEALTH
Crimewave
Culture Club
Miss Me Blind
Day Wave
Hard to Read
Deadmau5 (ft. Colleen D'Agostino)
Seeya
Duran Duran
Planet Earth

Singstar (DLC)

Kate Boy
Northern Lights
Lower Dens
To Die in L.A.
Major Lazer (ft. Pharrell)
Aerosol Can
NBA 2K15
Oliver Heldens (ft. Ida Corr)
Good Life
Prayers
Gothic Summer
Scott McKenzie
San Francisco (Be Sure to Wear Flowers in Your Hair)
Skylar Spence
Fiona Coyne
Small Black
Boys Life
The Polish Ambassador (ft. Ayla Nereo & Mr. Lif)
Let the Rhythm Just
Tower of Power
So Very Hard to Go
Centuries Classical KCE-FM
Antonio Vivaldi
Concerto No. 2 (Summer) Presto
Claude Debussy
Passepied
Eric Satie
Gnossiennes No. 1
Gran Turismo 5
Franz Joseph Haydn
Emperor Quartet (Finale Presto)
Frédéric Chopin
Nocturne No. 20
Frédéric Chopin
Prelude No. 8 (Molto Agitato)
Gabriel Faure
Pavanne
Johann Sebastian Bach
Keyboard Concerto No. 1 (Allegro)

Ludwig van Beethoven

Piano Sonata No. 14

Saints Row
Pyotr Ilyich Tchaikovsky
Piano Concerto No. 1
Wolfgang Amadeus Mozart
Eine Kleine Nachtmusik
Wolfgang Amadeus Mozart
Symphony No. 40 (Molto Allegro)
Saints Row 2, Watch Dogs: Legion
DedSec Pirate Radio
!!!
All U Writers
Aphex Twin
CIRKLON3
Steep
Azealia Banks
Miss Amor
Bibio (ft. Olivier St. Louis)
Why So Serious?
Clark
Winter Linn
Cybotron
Clear
Grand Theft Auto: Vice City;

Sampled for Lose Control in Lumines II

DKMD
I'm Watching You
Dual Core
All The Things
Giorgio Moroder
74 Is The New 24
Gonjasufi
Krishna Punk
LFO
LFO
Lone
Coreshine Voodoo
Metro Area
Miura
Grand Theft Auto V (re-release) (After Hours DLC)
M|O|O|N
Cholophyll
M|O|O|N (ft. Omar Doom)
Voices
Plaid
CLOCK
Rustie (ft. Danny Brown)
Attak
The Crew 2
Squarepusher
Stor Eiglass
The Galleria
Calling Card
The Prodigy (ft. Martina Topley-Bird & The Top Secret Drum Corps)
The Day Is My Enemy
Las Ondas De La Ria KODR
10cc
Dreadlock Holiday
Anthony B
Police
Bob Marley and the Wailers
Lively Up Yourself
Rock Band (DLC)
Chivirico Davila
Cuando Tu Quieras
Daniela Mercury
Rapunzel
Ismael Rivera
El Nazareno
Jungle Fire
Los Feligreses
KC & The Sunshine Band
I Get Lifted
George McCrae credited in Grand Theft Auto V
Pangea Collective
Nadia
Sublime
Wrong Way
Aggressive Inline, Rock Band 3 (DLC), Rocksmith 2014 (DLC)
Tony Rebel
Jah Is By My Side
Radio Bay Nation KBNT
C-Kan
La Calle Sabre De Mi Nombre
C-Kan
Un Par De Balas
Cannonhead
This Place is Built
Casey Veggies
Sauna
Dizzee Rascal
I Don't Need a Reason
DJ Quik
Dollaz + Sense
Grand Theft Auto V
Eric B. & Rakim
Don't Sweat the Technique
See page
Los Rakas
Kalle
Los Rakas
Soy Raka
Mac Dre
Get Stupid
Naughty By Nature
Uptown Anthem
N.E.R.D.
Spaz
NBA 2K9,

NBA Live 09
OutKast
Rosa Parks
NBA 2K17
Pep Love
Hip Hop My Friend
Run the Jewels
Blockbuster Night, Pt. 1
Need For Speed (2015)
Shirt
Phantom (Redux)
Tate Kobang
Bank Rolls (Remix)
Ty Dolla $ign (ft. B.o.B)
Paranoid
Rock The Bridge K66-FM
American Steel
Rogue's March
Anti-Flag
Kill the Rich
Creedence Clearwater Revival
Fortunate Son
See page
Dead Kennedys
Soup Is Good Food
Direct Hit
Forced to Sleep
Down and Outlaws
I Don't Care (I Don't Care)
Good Riddance
United Cigar
Jawbreaker
Chesterfield King
Judas Priest
Turbo Lover
Gran Turismo 3: A-Spec
Lagwagon
Reign
Leatherface
Not Superstitious
Masked Intruder
Crime Spree
Megadeth
Fatal Illusion
Rock Band 4 (DLC)
New Bomb Turks
Sucker Punch
NOFX
Leave It Alone
No Use for a Name
Invincible
PEARS
Green Star
PUP
Reservoir
Rancid
Journey to The End of the East Bay
Shannon and the Clams
It's Too Late
Sorority Noise
Art School Wannabe
Swingin' Utters
Soldier Boy
The Lookouts
Agape
Turbonegro
Denim Demon
Streetflex Shops
Emanuel Vo Williams, Robin Loxley & Samantha Powell
Kill Me First
KiD (ft. Eric Bellinger)
Moola
Shey Skeedy
No More
Big Mo & Femi Olasehinde
Party Plan
Richard Charnock
Hundred Dolla Girlz
NJC & Q
Purple Faze
Jim Davies & Rhett Moir
Boi Be Trippin'
Bjay McFly
All Out
Xzibit (ft. Young De)
What It Is
Win (Can't Lose)
The Truth
Hannibal Leq
Money
Raphael Lake, Aaron Levy, Dumi Maraire
Not Havin' It
Appears as "Sports 1" in WWE 2K19
Axle Boardshops
The Ernies
Here & Now
Tony Hawk's Pro Skater, Need for Speed: Underground (trailer)
Terror Metal
Stay Away
Terror Metal
The Other Side
Nicholas Nolan & Bart Hendrickson
The Real World
The Ernies
Polarized
Jesus Mercedes & Natty Lerner
Penny Reel
Terry Wrist
Scratch 'N' Sniff
Nick Welsh
Hey You
Appears as Paul London's Theme in WWE SmackDown! vs. Raw 2006
Terry Wrist
Airfix Model
Watch Dogs: Legion (trailer)
Terry Wrist
Day-Glo Globshite
Dick McNazi
Coma Dose
Extreme Music
Shut Yer Mouth
Terry Wrist
Lost the Plot
Extreme Music
Makin' Me Sick
Torque Rat Bike Shops
Bogus Toms
New Constitution
Zack Tempest
Slow Death
Bogus Toms
Middle of The Night
Blues Saraceno
Evil Ways (Justice Mix)
Battlefield Hardline
Blues Saraceno
Outlaw Justice
Blues Saraceno
Bad Man
Blues Saraceno
The River
Blues Saraceno
When The Devil Calls
Stache and Vine Shops
ARP Attack
Follow The Rhythm
Filthy Pillows
Don't Knock
Atlantic Connection (ft. Tetris)
Touchscreen
Catnaps
Kitten and Bear
Oliver Price
Some Kinda Miracle
Pawn Shops
Daniel Farrant & Paul Rawson
Blood From My Veins
All Good Things
Take The Fame
Shanks Mansell and Martha Bean
Pleasure and Pain
Mick Lister & Giles Palmer
Man On a Wire
Blues Saraceno
You Got a Dirty Little Secret
Lance Harvill
On Me
Plainstock
Nikki Flores/Photronique
Dare You To Love (Instrumental)
Nikki Flores/Photronique
Hello (Instrumental)
Fisherman & Hawkins
Underworld
William Finn
Royal Philharmonic Orchestra
Symphony 100 in G Major
Royal Philharmonic Orchestra
Symphony 6 in F Major
Other Songs
Alanna Matty
Nothing To Lose
Note: Appears in "Limp Nudle" mission
Alanna Matty
Why I Can't Sleep
Note: Appears in "Limp Nudle" mission
Alanna Matty
Loose Change
Note: Appears in "Limp Nudle" mission
GTA (ft. Vince Staples)
Little Bit of This
Note: Appears in trailers for this game
Hieroglyphics (ft. Goapele)
Make You Move
Note: Plays in the end credits but not listed in the credits
Ludwig van Beethoven
Ode to Joy
Saints Row IV, Forza Horizon 3, sampled for In the Hall of the Pixel King in Just Dance 2018
Note: Normally played when DecSec sends out viruses
Nikki Flores
Forever in Love
Note: Appears in "Always On" mission
Robbie Nevil
Hit it Hard
Note: Appears in strip club
Roy Ayers
Everybody Loves the Sunshine
Grand Theft Auto: Vice City Stories

Note: Listed in the credits, but removed from final game

Run the Jewels
Close Your Eyes (And Count to F*ck)
Far Cry: New Dawn
Note: Appears in the trailers of the game
Seaside
Get, Set, Go
Note: Appears in "Always On" mission
Two Steps From Hell
Star Sky (Instrumental)
Note: Plays when sailboat racing
Zack Tempest
Loaded
Appears as Jeff Hardy's theme in WWE SmackDown! vs. Raw 2008, WWE 2K18, WWE 2K19, WWE 2K20

Note: Plays in the mission "Hacking War"